Nordic I-Joists
Nordic I-joists are composed of sawn lumber flanges connected by a structural oriented strand board and bonded together with exterior-grade adhesives.
A competitive choice
The Nordic I-joist is an engineered product that boasts impressive resistance for its size and weight. It's a green choice product providing superior quality and performance at a very competitive price. Made of black spruce finger-jointed lumber, it is particularly noted for its competitive price, its many features, and the great service we provide to purchasers.
Superior quality
The Nordic I-joist manufacturing process ensures product quality and performance. The I-joist is dimensionally stable with fewer imperfections such as wane, camber, warping, and splitting/cracking. The use of finger-jointed lumber also delivers greater product uniformity and straightness. The flanges are subjected to a tensile test to ensure the joints' structural integrity prior to assembly. Nordic Joist products are certified by the APA agency.
Performance
Nordic I-joists provide a first-rate solution for residential, multiresidential, and commercial construction projects. Compared to conventional lumber, they offer many well-known attributes and benefits, including light weight, ease of installation, a variety of lengths and design options (multiple spans), the possibility of drilling holes through their web, and a larger surface for nailing.
Efficient use of resources
With the I-joist's optimal geometry, it uses 50% less wood fiber than conventional wood joists and makes more efficient use of our natural resources.
---
Wood I-joists and formaldehyde
Formaldehyde occurs naturally in all wood (even trees in the forest!), and some additional formaldehyde is present in the adhesives that are used in I-joists and other engineered wood products. The emission levels from structural wood products, however, are so low that prefabricated wood I-joists, structural plywood, and oriented strand board are exempt from the stringent requirements of the California Air Resources Board (CARB) Air Toxic Control Measure (ATCM) for Composite Wood Products and the EPA ruling, which is a technical equivalent to the CARB regulation. ​
For more information: www.apawood.org
(APA)
Great for
floor and roof joists, posts,
insertions for open web joists (on request)
Several series available for a variety of needs
Depths
from 241 to 610 mm (9-1/2 to 24 in.)
Maximum length
19.5 m (64 ft)
Guaranteed against manufacturing defects
FSC-certified products available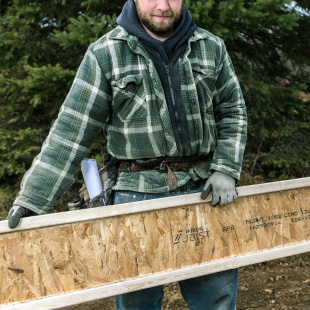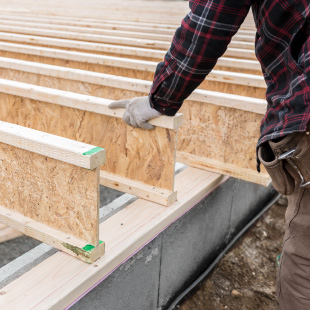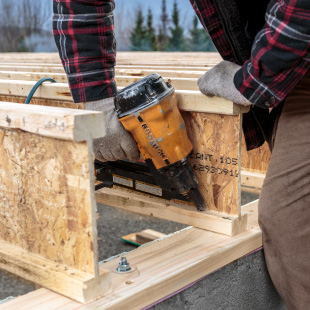 Residential
I-joists for residential applications come in different depth and series combinations to satisfy a variety of needs.
These products are available from our distributors.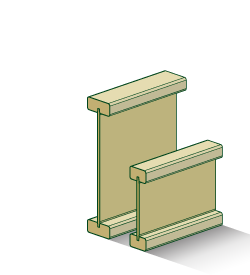 NI-20
[S-P-F No. 2] 3/8 in. web
Depths
9-1/2 and 11-7/8 in.
(241 and 302 mm)
NI-40x
[1950f MSR] 3/8 in. web
Depths
9-1/2, 11-7/8 and 14 in.
(241, 302 and 356 mm)
NI-60
[2100f MSR] 3/8 in. web
Depths
9-1/2, 11-7/8, 14 and 16 in.
(241, 302, 356 and 406 mm)
---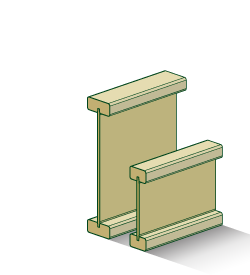 NI-80
[2100f MSR] 3/8 in. web
Depths
9-1/2, 11-7/8, 14 and 16 in.
(241, 302, 356 and 406 mm)
NI-90
[2400f MSR] 7/16 in. web
Depths
11-7/8, 14 and 16 in.
(302, 356 and 406 mm)
---
Commercial
I-joists designed for commercial applications are available in depths ranging from 457 to 610 mm (18 to 24 in.).
These products are available by special order.