Sustainable Development
What if the response to a basic need like housing were to drive sustainable development?
---
A genuine carbon sink
Wood production emits much less carbon dioxide (CO2)—a potent greenhouse gas—than does concrete or steel (see the chart below). In addition, growing trees trap atmospheric CO2 and lock it away within their fiber. Building with wood generates 26% to 31% less greenhouse gas than building with concrete or steel respectively (CORRIM). And, once the CO2 sequestered in its fiber is counted, wood is actually carbon negative. 1,000 m3 of wood traps the equivalent of 765 tons of carbon.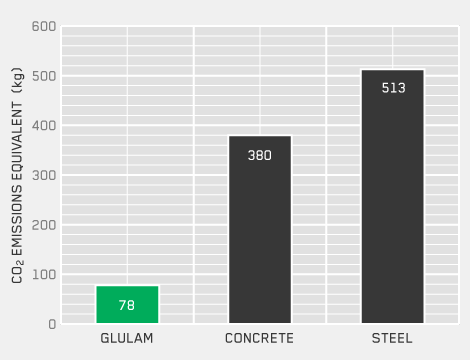 CO2 emissions for a 7.3 m beam made of different materials, supporting an unfactored load of 14.4 kN/m, as calculated by the Athena software program (source: Cecobois).
---
Deep in the forest
Forests—a renewable natural resource and source of wealth—are carefully managed to ensure long term sustainability. Forest operations are rigorously overseen by an environmental management system that goes well beyond what existing laws and regulations require. This guarantees a promising future for the ecosystem, for communities, and for future generations.
---
---
Economic benefits
Nordic Structures is involved in virtually every aspect of building construction—from the harvesting of trees and processing of raw materials to architectural and structural planning and final assembly and installation. Since cost is a key variable in the equation, Nordic Structures is always on the lookout for ways to optimize each and every phase in the process. The end result is greater cost efficiency, enhanced durability and quality, and more wood use in construction projects.
---
Community roots
Our company is rooted in the community. All the processing and manufacturing of wood takes place in Chibougamau, Quebec. The major part of raw materials comes from the surrounding area. The local community and our employees make up the roots of Nordic Structures and its sister companies. These are the people to whom the company owes its achievements and success. They are the driving force behind growth, innovation, and decision-making.
---
Superior architecture
With the growing availability of mass timber products in the market, architects have been able to approach their designs from fresh angles. Many recent timber frame projects testify to the innovations and advancements occurring in the field of architecture. These include new geometric and visual perspectives, an emphasis on occupant wellbeing, and the need for architectural design to be environmentally sensitive. Certain uses compel a complete rethinking of long-ingrained building techniques and methods—a reflection of a society in constant flux.
Nordic Structures is leading the way in proving that mass timber products have a place in sustainable development, and many of our projects are evidence of this commitment.
---