Nordic Lam+
Glued-Laminated Timber (Glulam)
Nordic Lam+ glued-laminated timber
of architectural appearance grade
consists of small wood laminations
bonded together in parallel using
structural adhesives.
Efficient
An indisputable advantage of Nordic Lam+ is that it can be used to manufacture large-size components and special shapes not found elsewhere in the market. It also features superior mechanical resistance compared to solid sawn lumber. By eliminating all defects, finger-jointing and gluing small wood pieces together, we have achieved a product that is notably strong and uniform.
A cut above
Glued-laminated timber is a quality product with superior strength that incorporates recent improvements in timber quality and processing. Its demonstrated versatility opens the door to a world of new construction designs. The mechanical properties of Nordic Lam+ is 24F-ES/NPG grade meet or exceed those of Canadian-standardized glulam products made from other wood species. Nordic Lam+ also provides an attractive alternative to other glulam products.
Versatile
Nordic Lam+ products render new architectural designs possible for all types of school, commercial, industrial, infrastructure, institutional, multiresidential, recreational, and residential construction projects. With glulam's superior strength, large-scale and extra-long-span structures become feasible and yield astonishing and complex architectural results that don't break the bank! Nordic Lam+ has redefined how to use black spruce and opened up a world of design possibilities.
Sustainable
Wood-based construction is more in the vanguard than ever thanks to its appeal as an ecological and sustainable solution. There is no better green choice than Nordic Lam+ for any sustainable building project.
Uses
beams and columns, decking, arches
Appearance grade
architectural
Stress grades
see the table below
Service conditions
dry and wet uses
Species
spruce-pine-fir, contains 90% black spruce
Widths
from 38 to 603 mm (1-1/2 to 23-3/4 in.)
Depth
up to 2435 mm (95-7/8 in.)
Lengths
up to 24.4 m (80 ft)
Larger sizes and custom-made pieces available
Warranty against manufacturer's defects
FSC-certified products available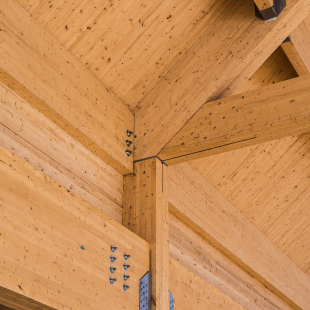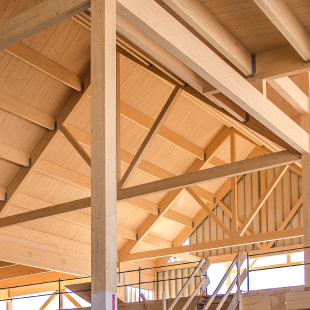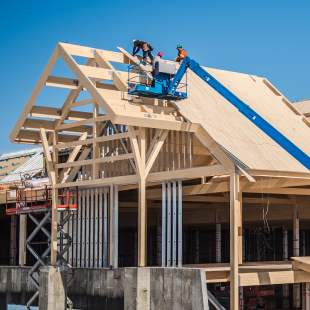 Architectural
Nordic Lam architectural products boast an elegant finish that's meant to be showcased. These products are generally custom-manufactured for structural projects.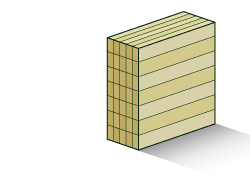 Widths*
38, 86, 137, 184, 215, 241, 292,
346, 395, 448, 502, 552 and 603 mm
(1-1/2, 3-3/8, 5-3/8, 7-1/4, 8-1/2, 9-1/2, 11-1/2,
13-5/8, 15-1/2, 17-5/8, 19-3/4, 21-3/4 and 23-3/4 in.)
Depth*
From 67 to 2435 mm
(2-5/8 to 95-7/8 in.)
Length*
Up to 24.4 m (80 ft)
*Larger sizes available upon request
---
Stress grade
24F-ES/NPG
---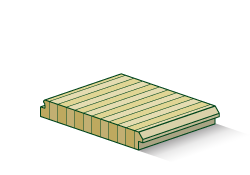 Thickness*
38, 44, 54 and 89 mm
(1-1/2, 1-3/4, 2-1/8 and 3-1/2 in.)
Widths
203, 305 and 406 mm
(8, 12 and 16 in.)
Length
Up to 18.9 m (62 ft)
*Larger sizes available upon request
---
Stress grades
ES11 (except 89 mm thickness in 20F-ES/CPG)
---