Nordic Lam
Glued-Laminated Timber (Glulam)
Nordic Lam glued-laminated timber
of industrial appearance grade
consists of small wood laminations
bonded together in parallel using
structural adhesives.
Efficient
An indisputable advantage of Nordic Lam is that it can be used to manufacture large-size components and special shapes not found elsewhere in the market. It also features superior mechanical resistance compared to solid sawn lumber. By eliminating all defects, finger-jointing and gluing small wood pieces together, we have achieved a product that is notably strong and uniform.
A cut above
Glued-laminated timber is a quality product with superior strength that incorporates recent improvements in timber quality and processing. Its demonstrated versatility opens the door to a world of new construction designs. The mechanical properties of Nordic Lam is 24F-1.9E grade meet or exceed those of Canadian-standardized glulam products made from other wood species. Nordic Lam also provides an attractive alternative to other glulam products.
Versatile
Nordic Lam products render new architectural designs possible for all types of school, commercial, industrial, infrastructure, institutional, multiresidential, recreational, and residential construction projects. With glulam's superior strength, large-scale and extra-long-span structures become feasible and yield astonishing and complex architectural results that don't break the bank! Nordic Lam has redefined how to use black spruce and opened up a world of design possibilities.
Sustainable
Wood-based construction is more in the vanguard than ever thanks to its appeal as an ecological and sustainable solution. There is no better green choice than Nordic Lam for any sustainable building project.
Uses
beams and headers, columns, and studs
Appearance grade
industrial
Stress grades
see the table below
Service conditions
dry and wet uses
Species
spruce-pine-fir, contains 90% black spruce
Widths
from 1-1/2 to 7 in. (38 to 178 mm)
Depth
up to 24 in. (610 mm)
Lengths
up to 48 ft (14.6 m)
Larger sizes available upon request
Warranty against manufacturer's defects
FSC-certified products available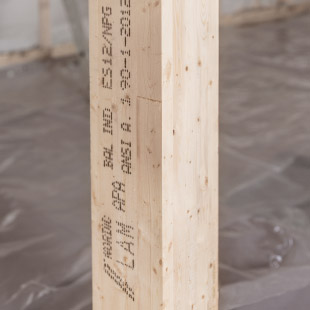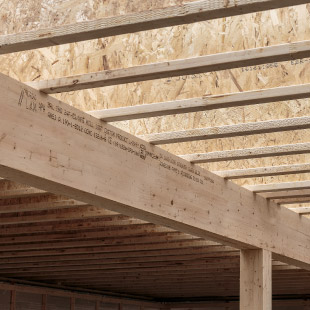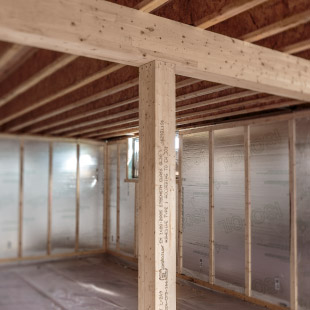 Industrial
Nordic Lam industrial products feature a less polished finish designed for behind-the-scenes applications. These standard size products are available from our distributors.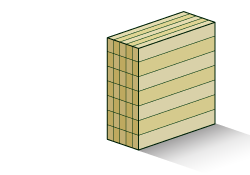 Widths
44, 89, 140 and 178 mm
(1-3/4, 3-1/2, 5-1/2 and 7 in.)
Depths
241, 302, 356, 406, 457, 508, 559 and 610 mm
(9-1/2, 11-7/8, 14, 16, 18, 20, 22 and 24 in.)
Length*
Up to 14.6 m (48 ft)
*Larger sizes available upon request
---
Stress grade
24F-1.9E
---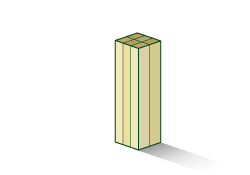 Widths
89, 140 and 178 mm
(3-1/2, 5-1/2 and 7 in.)
Depths
89, 140 and 178 mm
(3-1/2, 5-1/2 and 7 in.)
Length*
Up to 14.6 m (48 ft)
*Larger sizes available upon request
---
Stress grade
ES12
---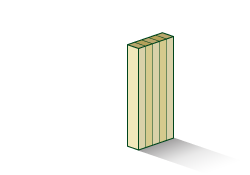 Widths
38 and 44 mm
(1-1/2 and 1-3/4 in.)
Depths
140 and 184 mm
(5-1/2 and 7-1/4 in.)
Length*
Up to 14.6 m (48 ft)
*Larger sizes available upon request
---
Stress grade
ES11
---